Our current Tory "government" is weak and divided and so now is the perfect time for us all to unite and fight back against yet more proposed cuts to our public services. Given that the police force has already seen massive funding cuts under Tory rule, with a loss of around 20,000 police officers since 2010, it is not too surprising that they would be quick to speak out against further Tory cuts.
(Government figures show that in March 2010, the total number of police officers in England and Wales was 143,734, while by March 2016, that figure had fallen to 124,066.)
Monday's issue of the Leicester Mercury (June 12) thus carries the article "Chief urges MPs to fight for fair funding for Leicestershire Police." Therein we find that Leicestershire's chief constable Simon Cole "is to write to the 10 new Parliamentary representatives to warn he expects his force to lose a further £10 million under existing Conservative spending plans." This is an additional cut on top of the £38 million that has already been removed from the local police forces operating budget since 2009.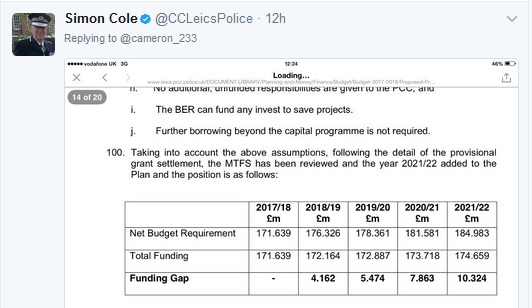 In response to the publication of the Mercury article, one member of the public took to twitter to ask the chief constable "how come you have to make more cuts despite the Government saying funding is protected?" Mr Cole quickly responded by tweeting "Because it doesn't cascade to local forces" and by also linking to a Guardian article from last year titled "George Osborne rebuked for 'no cuts in police budgets' claim" (10 March 2016).
The Guardian article is very informative in relation to the highly misleading statements made by Theresa May during her failed snap general election campaign, where she repeatedly talked about providing record levels of funding for public services despite these representing real-terms funding cuts. This is because the 2016 article takes both George Osborne and the then home secretary, Theresa May, to task for deceiving the public. The article notes:
"George Osborne, has been rebuked by the statistics watchdog for wrongly claiming there would be "no cuts at all in police budgets" in his autumn statement last November.

"The chancellor's declaration that "now is not the time for further police cuts, now is the time to back our police" was widely regarded as his major "rabbit out of a hat" surprise at a time when cuts of up to 20% had been expected.

"But Sir Andrew Dilnot, the chair of the UK Statistics Authority, ruled that despite Osborne's claim to be providing "real-terms protection" for the police, forces actually faced a £160m real-terms cut in their Whitehall funding in 2015-16 and 2016-17."
In the wake of May's shambolic election results, Jeremy Corbyn and John McDonnell have already called on May to resign and have pledged to put their programme to parliament.
So now it is vital that all public service providers facing swingeing Tory cuts take a leaf out of the police force's book and raise the need for politicians who are willing to oppose austerity and thereby increase, not cut, funding for all vital public services.
Join our public meeting on Thursday night, 7.30pm "Tories in Tatters, Fight for Socialism!" — June 15, upstairs at the Barley Mow pub on Granby Street in Leicester. https://www.facebook.com/events/1575345832478624/?acontext=%7B%22ref%22%3A%2222%22%2C%22feed_story_type%22%3A%2222%22%2C%22action_history%22%3A%22null%22%7D&pnref=story