By Lindsey Morgan (translated from English to Polish by Artur Wilk)
Oddział Leicester Partii Socjalistycznej oraz NSSN były obecne na niedzielnym, kryzysowym spotkaniu oddziału z pracownikami z Tulip, zakładzie przetwórstwa żywności w Coalville. Obecni pracownicy zagłosowali jednogłośnie za rozpoczęciem procedury akcji protestacyjnej. Miało to miejsce po załamaniu negocjacji pomiędzy Tulip a Związkiem Piekarzy (BFAWU).
Pracownicy w Tulip nie otrzymali podwyżki od trzech lat, pomimo ekstremalnych warunkach w których pracują, mając do czynienia z mięsem o temperaturze -4° and -5°. Po załamaniu negocjacji, bez brania pod uwagę bezpieczeństwa i zdrowia pracowników, zakład przestał zapewniać rękawice ochronne. Pracownikom odmawiano też plastrów na skaleczenia i zacięcia, którym ulegli w trakcie pracy.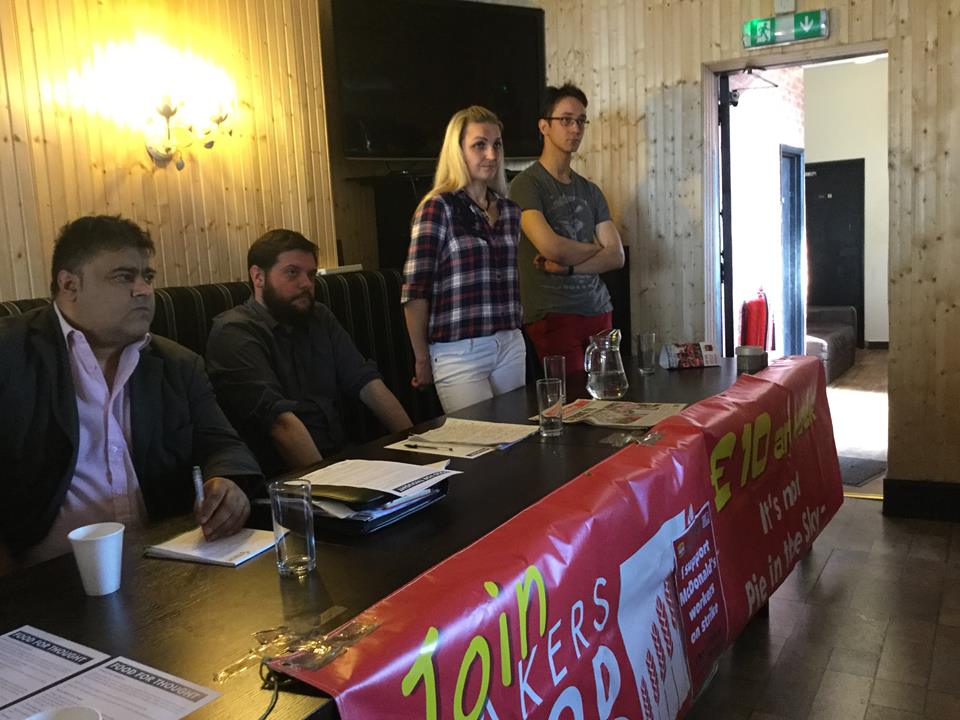 Konsolidacja stopni wynagrodzenia i pozbawienie premii znaczyło rzeczywistą (po uwzględnieniu inflacji) obniżkę zarobków dla tych pracowników, którzy również dotarcie do oddalonego zakładu pokrywają z własnej kieszeni.
Tulip jest własnością Danish Crown, globalnej korporacji, która w ostatnim czasie zainwestowała ponad 140 milionów funtów w infrastrukturę i nowe zakłady. Posiadają stabilność finansową, która pozwoliłaby im zainwestować w pracowników, wypłacając im takie wynagrodzenie na jakie zasługują. Wszystkie 19 żądań postawionych przez BFAWU firmie Tulip zostało odrzuconych.
Na spotkaniu BFAWU zobowiązało siędo wspierania i walki za swoich członków. Oddział Leicester Partii Socjalistycznej, razem z NSSN jest dumny z wspierania tych pracowników, oferując ciągłą pomoc pracownikom Tulip i BFAWU.
NSSN wyraziło solidarność z pracownikami przez świetną mowę zamykającą wygłoszoną przez Alexa Morgana, członka GEC dla PCS (pracowników sektora publicznego) oraz członka partii Socjalistycznej, przetłumaczona przez młodego polskiego członka partii Artura Wilka. Jak powiedział Alex; "Jeśli my (PCS) jesteśmy w stanie wygrać ustępstwa od rządu, wy możecie je wygrać od swojego pracodawcy. Solidarność!".