When Socialist Party members from Leicester visited the picket line at the huge Argos warehouse in  Magna Park, Lutterworth we were greeted with dozens of red Unite the Union flags and a union gazebo. For the two week strike they are maintaining a busy 24 hour picket line; you could sense the solidarity and strength of the workers.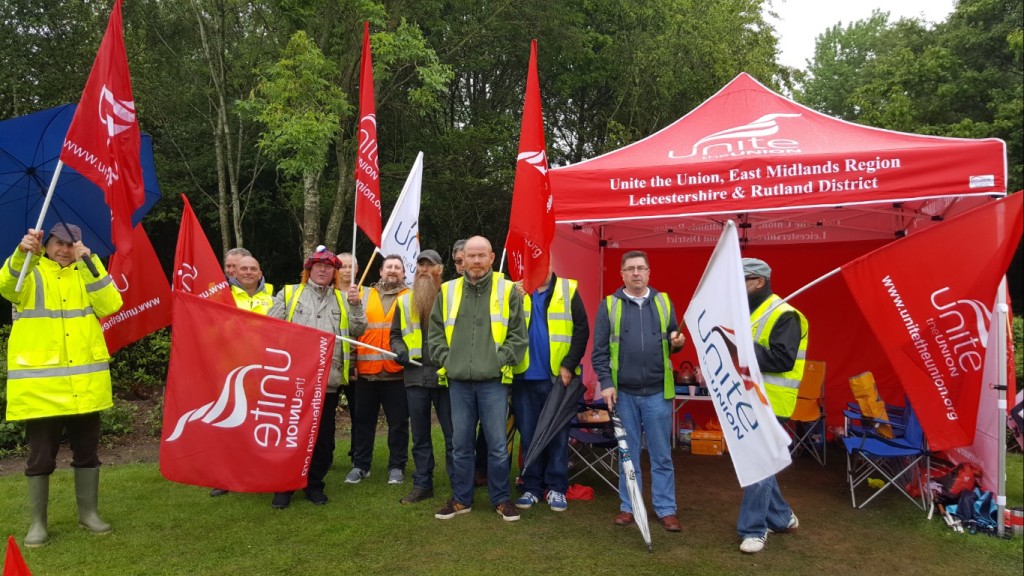 Paresh Patel, Unite regional coordinating officer said:
"The support shown by the workforce has been superb and everyone is in good spirits. There is 100% solidarity.

"Argos are transferring the workforce of 500 at Magna Park to another company – Wincanton in Kettering, 25 miles away. We are disappointed with Argos' stance around the payment of redundancy. The union wants to talk but Argos are not prepared to. This is why there is action here at Magna Park and across the five centres in the national forum."
Terms and conditions in a transfer are meant to be guaranteed under TUPE regulations. But Unite's website point out that "Argos has refused to give guarantees at all its distribution sites that workers' terms and conditions will be safeguarded in the future" and that "members have concerns about being offered alternative employment on potentially inferior terms, if they are unwilling to travel to a new site."
Workers fear a "contracting out culture" and have asked for "guarantees about terms and conditions and voluntary redundancy if a site moves and they cannot transfer." Last year Socialist Party members supported picket lines at the same site when they took strike action over the transfer of drivers to Eddie Stobarts.
One picket told me that it would cost him, and many of the workers thousands of pounds a year extra to get to work if they were transferred. Doesn't that have the same effect as a pay cut?
The management, having failed to block the strike by legal action once, could try again.