Interrupted only by an enthusiastic jump in the air, one small child explained why she had joined yesterday's protest: "I want to save our library, because otherwise nobody can read books and get knowledge."
But she wasn't alone, young and old alike took to the streets on Saturday afternoon to protest against ongoing attacks on public service provision in Rushey Mead. Waiting cars at the busy junction where the demonstration took place eagerly took up our leaflets and honked their horns in support.
Local campaigner Dixit Chauhan pointed out how ridiculous it was that the Council are attempting to close vital public facilities under the assumption "that we would take it laying down!" He noted that the local group aims to join Unison and other campaigners at the protest lobby of the Council's budget-setting meeting this Wednesday afternoon. He noted that…
"…we might be able to change the minds of the 52 Labour councillors in Leicester, but there are larger issues, like Peter Soulsby, because he doesn't actually have to listen to those 52 councillors. He can just decide all on his own, whether saving £14,000 is worth it in order to deprive our elderly citizens and our young children of a really vital service."
Dixit was "grateful to Councillor Ross Willmott who has been with us all the way through"; but sadly Dixit was forced to observe that most other Labour councillors have been less forthcoming in providing help.
"Sometimes I wonder where our councillors stand. Are they representing us, or are they too busy protecting themselves within the Council? It's beyond belief. But let's see what happens. Our Councillors' will have to account for their actions at some point in the future."
Well in excess of fifty people protested by the Silver Tree on Troon way opposite Sainsbury's to raise the profile of a snowballing campaign for justice in Rushey Mead. Unison members at the protest raised the idea of our Labour Council using their reserves to avoid making public service cuts.
So will our Council continue cutting the services that provide a vital lifeline to our city's residents, or will they get behind recent demands from Leicester's trade union movement to get that their finance officers investigate how a no-cuts budget can help save Leicester from further Tory-derived cuts?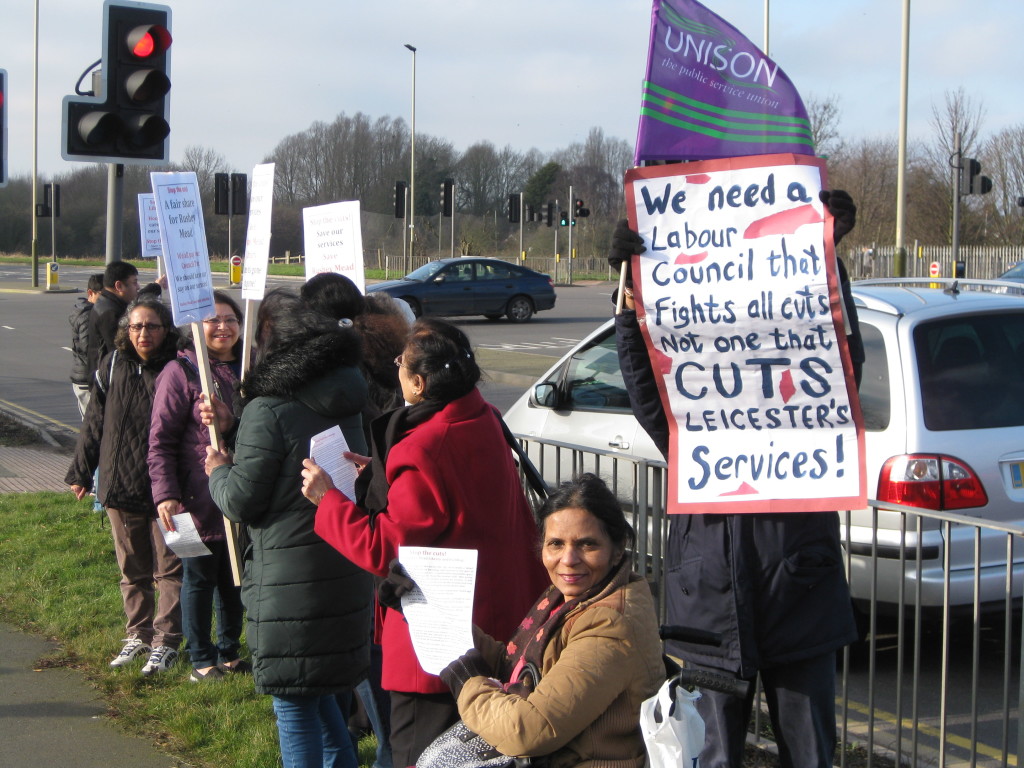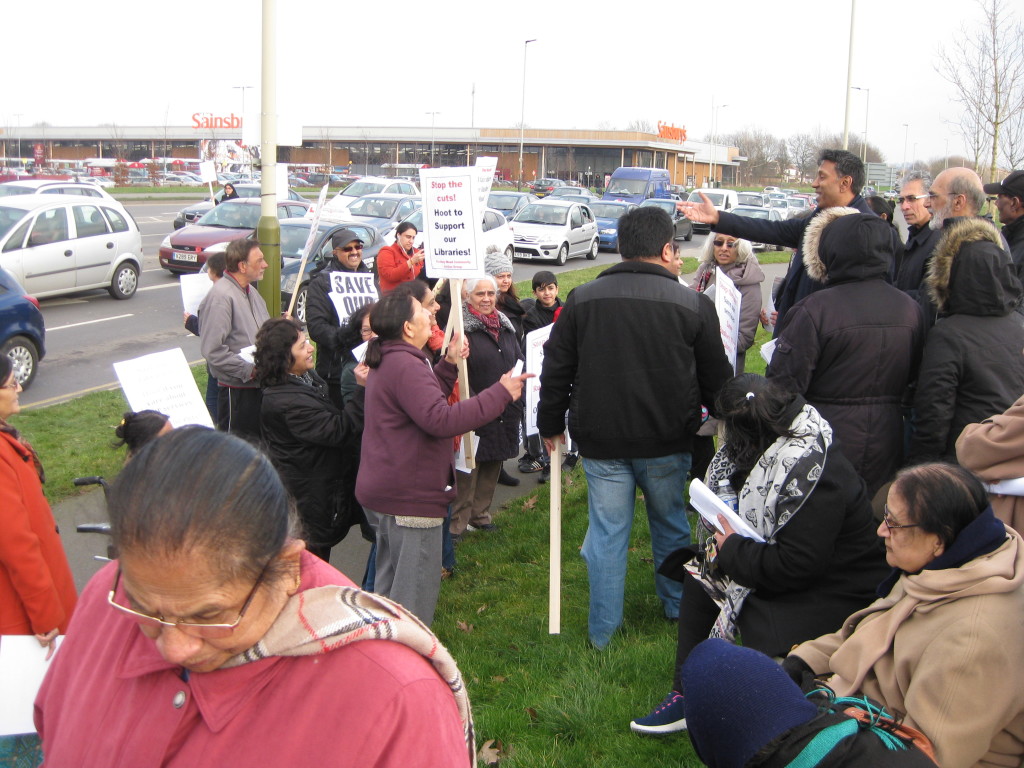 CONsultation!
Speaking in reference to the recent totally floored consultation process that the Council undertook, Dixit Chauhan said:
"It's a sticking point. The Council are maintaining that they did a full consultation process, and we are saying that it was inadequate. We are saying for the demography that's here, the information that was passed out was insufficient for people to understand. If people don't understand it, it doesn't mean that you've actually done a proper consultation, it just means that you have ticked all the boxes. That's not good enough. It's our money

"We are not saying that we want more than anyone else. We are not even saying that we want as much as anybody else. What we are saying is that we want a fair share. £14,000 is not unreasonable to keep our one library open, and another two or three thousand pound to keep our recreation centre open, is also not unreasonable. You are talking about £17-18,000. What the Silver tree represents, which cost in excess of £60,000, that could run our library for another four years.

"Maybe at some point the Council will start a proper consultation. We are asking them to simply rewind the process, we are not saying stop it. Rewind it: let's look at all the options and let's come up with the best-worked solution together, not the fait accompli that they have presented to us, and are now forcing through, simply because they can."
Councillor Ross Willmott also explained:
"The library and the recreation centre is really all there is in Rushey Mead and they are both very well used. I mean the library had 27,000 people using it last year and the recreation centre nearly 25,000 people. So thousands and thousands of local people, children and elderly people are using these centres, and I am fully behind them to try to keep the library open as it is, and the recreation centre open as it is. They are small buildings, they are not vast and don't cost the Council much money to run, and I think the Council should keep them as they are."